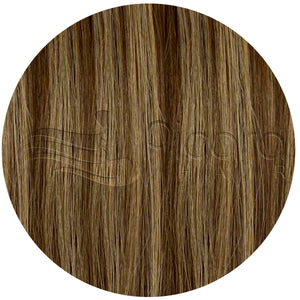 PUNTOS # P4/27
Premium Quality: 100% Remy Human Hair, 24'' long. Silky and smooth without tangles, providing a more natural look. 100 strands per pack, 0.5g/strand. We recommend 2-3 packs (100g) to add volume and stretch length.
Durable Keratin Glue: A kind of natural protein glue that sticks firmly to the joined ends and lasts for a long time. Help to get rid of falling problem. The lifespan of the hair generally lasts from 3 to 6 months. Professional care can help increase shelf life. Extensions can be applied with micro rings, rings.
Restyleable: Can be trimmed, washed, curled, straightened or dyed, just treat it like your own hair. But keep in mind that only light color can be tinted in darker shades. And the temperature is better below 356 degrees F.
Occasions: Perfect choice to add length or volume without waiting long for hair growth.